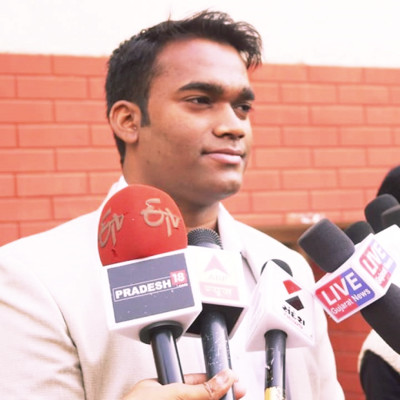 He found severe vulnerability in 250+ well known websites like Intel, Yourstory, GTPL, BCCI, ColorsTV, Encyclopedia, Times of India, Data Wind, Airtel, Mozilla, Zomato, PVR, etc. and solved more then 500 cases of cyber crime & online frauds. He is famous for his research "Cyber Disorder" and "Who is spying on you".
He started a World's biggest Privacy Awareness Campaign named "Logout" to aware people about privacy and security and till now has given 700+ Seminars and workshops in 100+ organizations including GTU (Gujarat Technological University) and Raksha Shakti University (RSU), Nirma University, Maharaja Sayajirao Gaikvad University (MSU), Ganpat University, Nirma University, C U Shah University, PDPU (Pandit Deendayal Petroleum University), Kadi university, DA-IICT Gandhinagar, Yuvalay Foundation, CRPF (Central Reserve Police Force) and BSF (Border Security Force) also Invited in International Conference like MozFest 2017 London, DevConf 2018 India, 614Con 2018 USA, CryptoRave 2018 Brazil, OSCAL 2018 Albania, AllThingsOpen 2018 USA, LISA 2018 USA, PyBITS 2018 India, DevTalks 2018 Romania, PyTennessee 2019, PyTexas 2019, BSidesOK 2019, DevConf 2019 Czechia , DevTalks 2019 Romania, Devconf 2019 India, PyThailand 2019, PyIndiana 2019, Pycon 2019 Nigeria , Geekcamp 2019 Singapore, Liberty JS 2019 Philadelphia, Amazon Community Summit London 2019, B-Sides Columbia 2019. He aware more than 1 Million people about rights to privacy, cyber security, net neutrality, surveillance, issues with bio-metric scan (aadhar card) and cyber disorder.
Follow Viral
All Sessions by Viral Parmar
Airmeet
Complexity and Compatibility Issue Migration to Newly Cloud Services Common Application Vulnerabilities Data Privacy Authentication & Authorization Malware Attack Security Compliance.